CS for All
CS for All was created by the United States Department of Education (US DOE), during the Obama administration, with the goal of "empower[ing] a generation of American students with the computer science skills they need to thrive in a digital economy" (Smith, 2016). Although the "CS for All" initiative has been "archived" by the Trump administration ("Computer Science" now exists as a topic under the US DOE's Office of Innovation & Improvement), several organizations have filled the void. The National Science Foundation (NSF) has created CS for All Teachers, "a virtual community of practice, welcoming all teachers from PreK through high school who are interested in teaching computer science" (2017). Similarly, Code.org has created a Teacher Community and offers professional development courses, both online and in-person, for teachers who are using Code.org curriculum to teach K-12 computer science. K-12 Computer Science Framework has developed a vision, guidance for implementation and resources (including teacher professional learning) that schools, districts and teachers can use to develop an integrated computer science program.
Walking the Walk
In addition to these initiatives and support networks, there is still much work to be done to bring computer science learning opportunities to K-12 students, especially students in elementary and middle school. Computer science is not a requirement in teacher education programs, and CS professional development is not a requirement for new or veteran teachers. Although computer science may exist as an optional course in high schools, it is often present only as an after school program for elementary and middle school students.
As I entered my final quarter in the Seattle Pacific University Digital Education Leadership Master's Program, I decided that if I was going to "talk the talk"—to promote the integration of computer science into K-12 academic curriculum and encourage teachers and students to pursue computer science learning opportunities—I should be prepared to "walk the walk"—to become of student of computer science myself.
The article "The Best Programs to Learn to Code of 2016," by Jordan Minor, became my learning platform research base. Minor provides well-organized advice, as well as a list of "Featured Coding Educational Software Reviews" that allow the reader to compare and even "test drive" platforms before taking the plunge.
My Professional Learning Choice: Treehouse
I chose the Treehouse platform because each learning activity:
is taught by an instructor on video who explains concepts
builds skills at an appropriate pace
incorporates multiple, well-placed quizzes that provide feedback about learning
uses game-based learning in the form of points and badges
My Progress
I've thoroughly enjoyed my Treehouse learning experiences, and plan to continue my journey. As of today, I am minutes away from completing the Digital Literacy Track, which covers:
basic computing principles and foundational knowledge of the infrastructure of the Internet and World Wide Web, and
an introduction to three web languages: HTML, CSS, and JavaScript
My projects have included building a personal web page (focus on CSS), a sound board application with picture buttons (focus on JavaScript), and a randomized future telling game (focus on HTML; still in development!).
Next, I'll choose from a number of tracks, including deeper dives into programming languages (JavaScript, Python, Ruby, C#, PHP, SQL, Swift) or comprehensive operating system or platform design and development (iOS, Android, WordPress, VR, games).
As I continue my own learning and bring computer science learning opportunities to my students through my role as a Middle School Teacher-Librarian, my goal is not only to increase my personal computer science skills but also to model lifelong professional learning for my colleagues and students.
Further Reading
In "Coding in the Classroom: 6 Tips to Get Even Reluctant Teachers—and Students—Started," Alexandra Diracles and Katarina Pasinsky write, "Even if educators recognize the importance of teaching computer science and programming for their students, they often face their own internal roadblocks" (2017).
In "Add Coding to Your Elementary Curriculum. . . Right Now," Matt Harrell writes about, "breaking down the barriers to getting started in your classrooms. . . not some day, but right now" (2015).
A Referral
If you decide to try out Treehouse, you can click on the link below to receive a discount on your first month!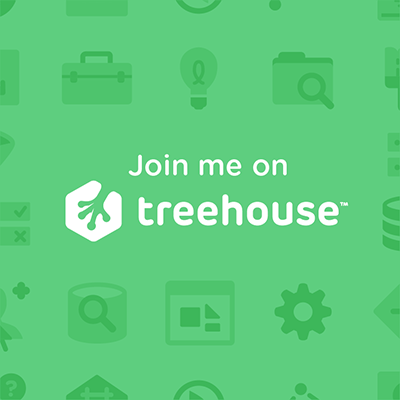 Works Cited
National Science Foundation (2016). CS for all teachers. Retrieved from https://csforallteachers.org/about
Smith, Megan (2016). Computer science for all. Retrieved from https://obamawhitehouse.archives.gov/blog/2016/01/30/computer-science-all